Strategies for the continuity of the historical city: the denied maintenance approach
Keywords:
continuity, maintenance, ethics
Abstract
Widening the concept of temporal continuity – which invokes the unavoidable changeover between fathers and sons – to the field of anthropic transformation, allows reflecting on the historical city and on the current regenerative changes concerning it. Among these, the maintenance approach that, today, even in an unlearning opportunity, could be an ecological and sustainable alternative to dominant technical culture. In this scene, the contribution argues the reasons for its reaffirmation, deepening its developmental dynamics: from renewed multiscale and multidisciplinary approaches to the main implemental tools.
Downloads
Download data is not yet available.
Article Metrics Graph
References
Aa.Vv. (1994), Proceedings of First International Conference of CIB TG16, Ann Arbor, Michigan USA, Ed. Kilbert, C.J.
Caterina, G., Curcio, S., Molinari, C., Paganin, G. and Talamo, C., (2007) "Verso la Manutenzione Urbana. Cultura e mercato tra innovazione e problematicità" in Fiore, V. (ed.), La cultura della manutenzione nel progetto edilizio e urbano, ed. LetteraVentidue, Bagheria (PA).
Cattaneo, M. (2012), Manutenzione, una speranza per il futuro del mondo, F. Angeli, Milano.
Croce, S. (2003), "Introduzione generale alle linee guida per i documenti tecnici del Piano di Conservazione", in Della Torre, S. (ed.), La Conservazione Programmata del Patrimonio Storico Architettonico: linee guida per il piano di conservazione e consuntivo scientifico, Guerini e Associati, Milano.
Jonas, H. (1979), Das Prinzip Verantwortung: Versuch einer Ethik für die technologische Zivilisation, Frankfurt/M.
Kant, I. (1781), Kritik der reinen Vernunft.
Latouche, S. (2007), Petit traité de la décroissance sereine, Mille et Une Nuits, Paris.
Lauria, M. (2008), La Permanenza in Architettura. Progetto, Costruzione, Gestione, Gangemi, Roma.
Molinari, C. (1989), Manutenzione in Edilizia, Franco Angeli, Milano, Italia.
Moneo, R. (1986), The solitude of buildings, Harvard University, Graduate School of Design in Cambridge, Mass.
Morin, E. (2014), Enseigner à vivre: Manifeste pour changer l'éducation, Service decitre, Lyon.
Nakajima, S. (1984), TPM: Total Productive Maintenance. Maximising Overall Equipment Effectiveness, Japan Institute of Plan Maintenance.
Perotto, P. (1993), Il paradosso dell'economia. Manuale di rivoluzione culturale, Franco Angeli, Milano.
Rossi, A. (1978), L'architettura della città, Clup, Milano.
Settis, S. (2014), L'etica dell'architetto e il restauro del paesaggio, Lectio Magistralis, 14 gennaio, Università degli Studi Mediterranea di Reggio Calabria.
Settis, S. (2017), Architettura e democrazia, Einaudi, Segrate (MI).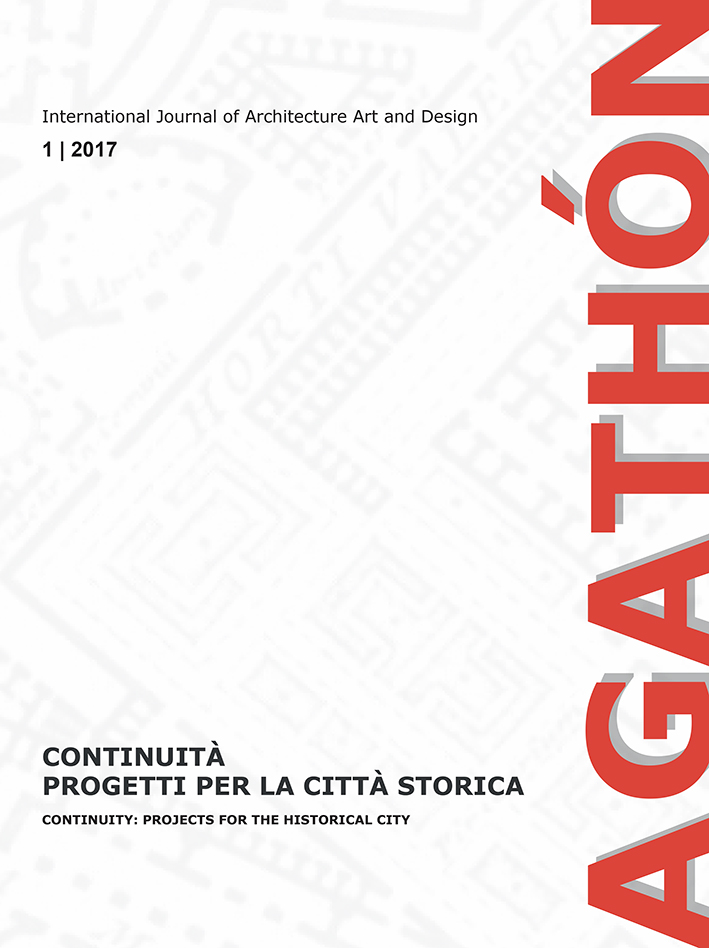 Downloads
How to Cite
Lauria, M. and Azzalin, M. (2017) "Strategies for the continuity of the historical city: the denied maintenance approach", AGATHÓN | International Journal of Architecture, Art and Design, 1(online), pp. 95–102. doi: 10.19229/2464-9309/1152017.
Section
Architecture | Essays & Viewpoint
License
This Journal is published under Creative Commons Attribution Licence 4.0 (CC-BY).




License scheme | Legal code

This License allows anyone to:
Share: copy and redistribute the material in any medium or format.
Adapt: remix, transform, and build upon the material for any purpose, even commercially.

Under the following terms
Attribution: Users must give appropriate credit, provide a link to the license, and indicate if changes were made; users may do so in any reasonable manner, but not in any way that suggests the licensor endorses them or their use.
No additional restrictions: Users may not apply legal terms or technological measures that legally restrict others from doing anything the license permits.

Notices
Users do not have to comply with the license for elements of the material in the public domain or where your use is permitted by an applicable exception or limitation.
No warranties are given. The license may not give users all of the permissions necessary for their intended use. For example, other rights such as publicity, privacy, or moral rights may limit how you use the material.