Internationalisation projects in the Maghreb conducted by the Dida Area Design
Saverio Mecca

University of Firenze

Giuseppe Lotti

University of Firenze

Debora Giorgi

University of Firenze

Eleonora Trivellin

University of Firenze
Keywords:
internationalisation, design, territory, sustainable development, inter-disciplinary
Abstract
The complexity of the contemporary world requires an in-depth rethinking of the role of design and designers. Its very multi-disciplinary and trans-disciplinary nature, its attempt to interpret the complexity and challenges of contemporary life, requires dealing with ethical issues and continually elaborating new tools which enable the strength deriving from its flexibility and ability to take cross fertilisations on board to be exploited to the full. The Mediterranean can, in particular, be an extremely interesting scenario for experimenting with new educational trajectories which can contribute to reconnecting and recreating that inter-personal and exchange nature which has always been its key characteristic, by means of cultural diversity promotion.
Downloads
References
Celaschi, F. (2008), "Il Design come integratore tra saperi – L'integrazione delle conoscenze nella formazione del designer contemporaneo", in Germak, C. (ed.), Uomo al centro del progetto, Umberto Allemandi & C., Torino.
Celaschi, F. (2011), Il portato del soggetto nel design. [Online] Available at: www.flavianocelaschi.net [Accessed 7 July 2016].
Celaschi, F. and Formia, E. (2012), "Education for design processes: the influence of latin cultures and contemporary problems in production systems", in Formia, E. (ed.), Innovation in Design Education, Allemandi, Torino.
Celaschi, F., Formia, E. and Lupo, E. (2012), "From trans-disciplinaritity to undisciplined design learning: innovating through/to disruption", in Formia, E. (ed.), Innovation in Design Education, Allemandi, Torino, 2012.
Longo, G. O. (2014), "Le Culture: una, due o centomila?", in Multiverso, n. 13, Due. [Online] Available at: www.multiversoweb.it/rivista/n-13-due/ [Accessed 17 May 2017].
Lotti, G. (2016), Interdisciplinary Design, DIDAPRESS. Firenze.
Lotti, G. (2015), Design interculturale – Progetti dal Mare di Mezzo, DIDAPRESS, Firenze.
Lotti, G., Giorgi, D. and Marseglia, M. (2017), Prove di design altro – Cinque anni di progetti per la sostenibilità, DIDA, Firenze.
Manzini, E. (2015), Design, When Everybody Designs – An Introduction to Design for Social Innovation, Boston, MIT Press.
Sennet, R. (2009), L'uomo artigiano, Feltrinelli Editore, Milano.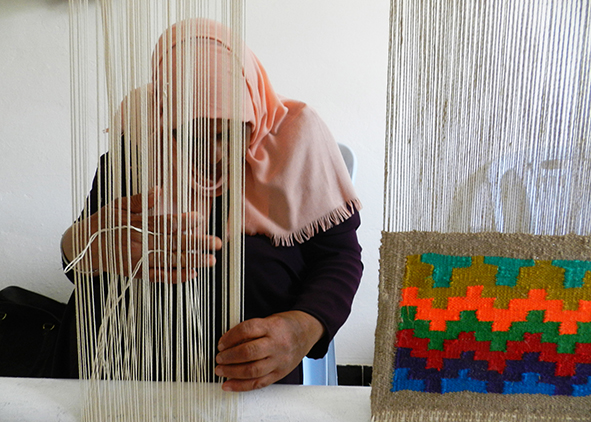 How to Cite
Mecca, S., Lotti, G., Giorgi, D. and Trivellin, E. (2018) "Internationalisation projects in the Maghreb conducted by the Dida Area Design", AGATHÓN | International Journal of Architecture, Art and Design, 3(online), pp. 205-212. doi: 10.19229/2464-9309/3272018.
Section
Design | Research & Experimentation
This Journal is published under Creative Commons Attribution Licence 4.0 (CC-BY).




License scheme | Legal code

This License allows anyone to:
Share: copy and redistribute the material in any medium or format.
Adapt: remix, transform, and build upon the material for any purpose, even commercially.

Under the following terms
Attribution: Users must give appropriate credit, provide a link to the license, and indicate if changes were made; users may do so in any reasonable manner, but not in any way that suggests the licensor endorses them or their use.
No additional restrictions: Users may not apply legal terms or technological measures that legally restrict others from doing anything the license permits.

Notices
Users do not have to comply with the license for elements of the material in the public domain or where your use is permitted by an applicable exception or limitation.
No warranties are given. The license may not give users all of the permissions necessary for their intended use. For example, other rights such as publicity, privacy, or moral rights may limit how you use the material.