Forgotten Appia
Keywords:
Ancient Appia, active conservation, urban re-generation
Abstract
The Appia, born in 312 BC to connect Rome and Capua, for a brief but significant part is the paper's main topic. The complete lack of care over the years erased from memories its outgrowing area right where it became the connection between the ancient Capua and Casilinum, its harbor on the Volturno River. The continuous urban system, currently composed of their historical marks from Santa Maria Capua Vetere (formerly Capua Antica) and Capua (formerly Casilinum), generated confusion even for the most prominent academics of ancient Campania. Revised with some degree projects and design laboratories, the aim was to imagine architectures that could favor rediscovery and homogeneous use rather than mummification.
Downloads
Download data is not yet available.
Article Metrics Graph
References
Brock, I., Giuliani, P. and Moisescu, C. (1973), Il centro antico di Capua, Marsilio Editore, Padova.
Caniggia, G. (1984), Recupero e riqualificazione urbana, Roma.
Gregotti, V. (1991), Dentro l'Architettura, Bollati-Boringhieri, Torino.
Heidegger, M. (1976), Costruire abitare pensare, Mursia, Milano.
Norberg-Schulz, C. (1980), Genius Loci, Electa, Milano.
Pizzigoni, V. (2010), Mies Van Der Rohe: gli scritti e le parole, Einaudi, Torino.
Rumiz, P. (2016), Appia, Edizione Feltrinelli, Milano.
Venezia, F. (1990), Scritti brevi 1975-1989, Clean, Napoli.
Zevi, B. (1973), Il linguaggio moderno dell'architettura, Einaudi, Torino.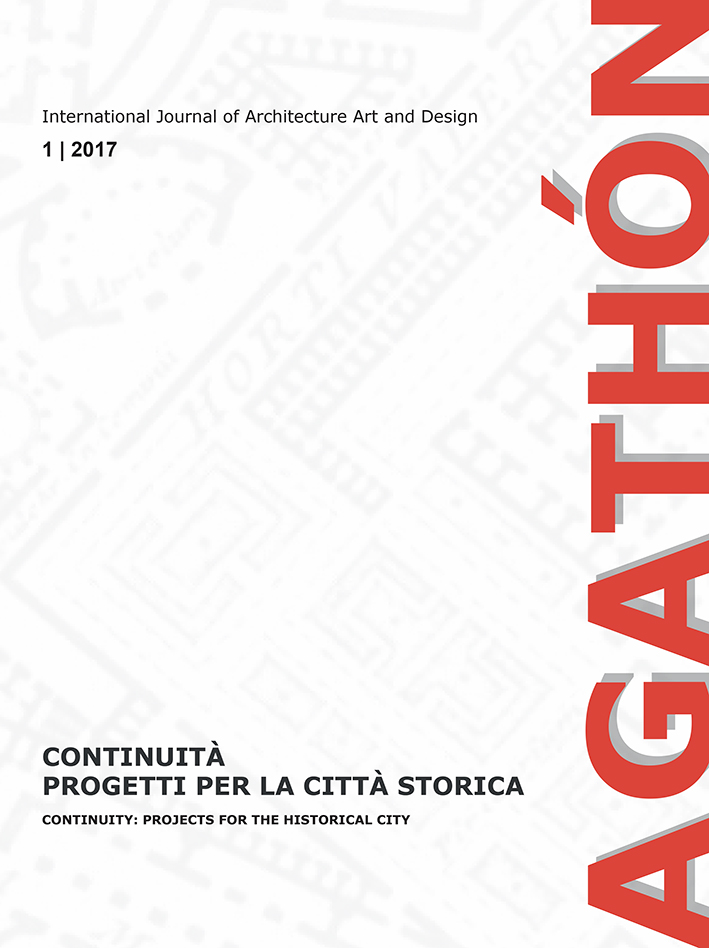 Downloads
How to Cite
Rendina, M. and Iodice, F. (2017) "Forgotten Appia", AGATHÓN | International Journal of Architecture, Art and Design, 1(online), pp. 21–28. doi: 10.19229/2464-9309/142017.
Section
Architecture | Essays & Viewpoint
License
This Journal is published under Creative Commons Attribution Licence 4.0 (CC-BY).




License scheme | Legal code

This License allows anyone to:
Share: copy and redistribute the material in any medium or format.
Adapt: remix, transform, and build upon the material for any purpose, even commercially.

Under the following terms
Attribution: Users must give appropriate credit, provide a link to the license, and indicate if changes were made; users may do so in any reasonable manner, but not in any way that suggests the licensor endorses them or their use.
No additional restrictions: Users may not apply legal terms or technological measures that legally restrict others from doing anything the license permits.

Notices
Users do not have to comply with the license for elements of the material in the public domain or where your use is permitted by an applicable exception or limitation.
No warranties are given. The license may not give users all of the permissions necessary for their intended use. For example, other rights such as publicity, privacy, or moral rights may limit how you use the material.