Technology and green measures to a resilient architecture
Santina Di Salvo

University of Palermo
Keywords:
resilient architecture, materials, sustainability
Abstract
The scope of the effects that climate change implies in different territories requires a rethink of the current approach to the city's design. The new orientation is directed towards resilient design (from Latin to resilient) that is sustainable, agile and anti-fragile that can withstand current crises. The article focuses on the fundamental role of technology in the construction of microclimate mitigation.
Downloads
References
Boeri, S., (2015), Un bosco verticale. Libretto di istruzioni per il prototipo di una città foresta, Musante, G. (ed.), Azzurra Muzzonigro, Corraini Edizioni.
Cabeza, L. F., Rincón, L., Vilariño, V., Pérez G. and Castell A. (2014), "Life cycle assessment (LCA) and life cycle energy analysis (LCEA) of buildings and the building sector: a review", in Renewable Sustainable Energy.
Cemento biodinamico. [Online] Available at: www.italcementi.it/it/palazzo-italia-expo-2015 [Accessed 22 February 2017].
De Martino, E. (2016), Palazzo Italia Expo: soluzioni costruttive innovative poste al vaglio di un'analisi critica, Tesi di Laurea Università di Bologna, Corso di Studio in Ingegneria civile.
Echevarria Huaman, R. N. and Xiu Jun, T. (2014), "Energy related CO2 emissions and the progress on CCS 6 projects: a review", in Renewable Sustainable Energy.
Giacomello, E. and Valagussa, G. (2015), Vertical Greenery: evaluating the High-Rise Vegetation of the Bosco Verticale, Milan, Chicago, CTBUH.
Green Building Council Italia. [Online] Available at: www.gbcitalia.org/risorse/265?locale=it [Accessed 22 February 2017].
I dati sulle emissioni serra in Italia. [Online] Available at: www.comitatoscientifico.org/temi%20CG/clima/datitaliani.html [Accessed 24 February 2017].
Ibn-Mohammed, T., Greenough, R., Taylor, S., Ozawa-Meida, L. and Acquaye, A. (2013), "Operational vs. embodied emissions in buildings - a review of current trends", in Energy Build.
Pulcinelli, C., La domanda di energia è destinata a crescere, Micron/energia. [Online] Available at: www.arpa.umbria.it/resources/docs/micron%2027/micron-27-42.pdf [Accessed 12 February 2017].
Rapporto sugli effetti dell'inquinamento dell'aria. [Online] Available at: www.enea.it/it/pubblicazioni/pdf-volumi/v2017-activities-on-air-pollution-in-italy.pdf [Accessed 24 February 2017].
The coolest futuristic skyscrapers that will (probably) never be built. [Online] Available at: www.telegraph.co.uk/travel/galleries/incredible-futuristic-skyscrapers-that-never-be-built-evolo-competition/heal-berg-a-reverse-climate-changing-machine/ [Accessed 12 February 2017].
Yong Han, A. and Pierce, A. R. (2007), "Green Construction: Contractor Experiences, Expectations, and Perceptions", in Journal of Green Building, vol. 2, n. 3.
Zuo, J. and Zhao, Z. Y. (2014), "Green building research-current status and future agenda: a review", in Renewable Sustainable Energy.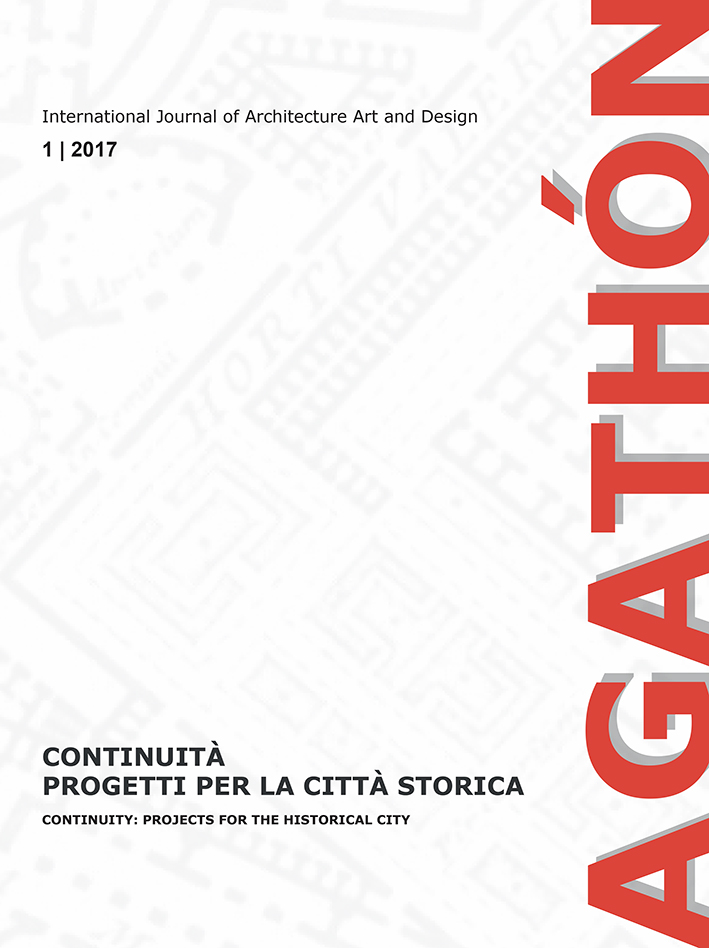 How to Cite
Di Salvo, S. (2017) "Technology and green measures to a resilient architecture", AGATHÓN | International Journal of Architecture, Art and Design, 1(online), pp. 89-94. doi: 10.19229/2464-9309/1142017.
Section
Architecture | Essays & Viewpoint
This Journal is published under Creative Commons Attribution Licence 4.0 (CC-BY).




License scheme | Legal code

This License allows anyone to:
Share: copy and redistribute the material in any medium or format.
Adapt: remix, transform, and build upon the material for any purpose, even commercially.

Under the following terms
Attribution: Users must give appropriate credit, provide a link to the license, and indicate if changes were made; users may do so in any reasonable manner, but not in any way that suggests the licensor endorses them or their use.
No additional restrictions: Users may not apply legal terms or technological measures that legally restrict others from doing anything the license permits.

Notices
Users do not have to comply with the license for elements of the material in the public domain or where your use is permitted by an applicable exception or limitation.
No warranties are given. The license may not give users all of the permissions necessary for their intended use. For example, other rights such as publicity, privacy, or moral rights may limit how you use the material.