Mutations and pemanences in ancient Palermo
Keywords:
historic center, urban scenarios, renewal
Abstract
Ancient Palermo identifies itself with its Historic Center whose complexity is the result of the encounter of successive cultures over the centuries and which gave the city its current facies. These sites are now a complex and articulated microcosm where the cultural models of the new inhabitants relate to the pre-existing, creating new forms and expressions of the anthropic intervention. The analysis is aimed at new urban scenarios, at footprints, at signs and at mutations created by a settlement process that involves new residents and their resources, in a field that has all the potential to return to Palermo its role as an international capital, with a view to integrating, welcoming, renewal and enhancing the enormous multicultural wealth accumulated in centuries of history.
Downloads
Download data is not yet available.
Article Metrics Graph
References
Belli, A., (ed.) (2006), Il territorio speranza. Politiche territoriali possibili per il Mezzogiorno d'Italia, Alinea, Firenze.
Bommarito, E. (2015), "Soggettività migranti e spazio a Ballarò. Quattro metafore spaziali", in Dialoghi mediterranei. [Online] Available at: www.istitutoeuroarabo.it/DM/soggettivita-migranti-e-spazio-a-ballaro-quattro-metafore-spaziali/ [Accessed 6 March 2017].
Bonafede, A. (1955), "I piani regolatori di Palermo dal 1860 al 1865", in Urbanistica, vol.17.
De Seta, C. and Di Mauro, L. (1995), Le città nella storia d'Italia, Laterza, Bari.
De Seta, C. and Di Mauro, L. (1980), Palermo, Laterza, Bari.
Di Benedetto, G., (ed.) (2000), La città che cambia. Restauro e riuso nel Centro Storico di Palermo, Assessorato al Centro Storico, Palermo Vol. I e II.
Hannerz, U. (2001), La diversità culturale, 1996, Il Mulino, Bologna.
Quilici, V., (ed.) (1980), Palermo centro storico: una questione di metodo, Officina Edizioni, Roma.
Ronzon, F. (2008), Il senso dei luoghi. Indagini etnografiche, Meltemi, Roma.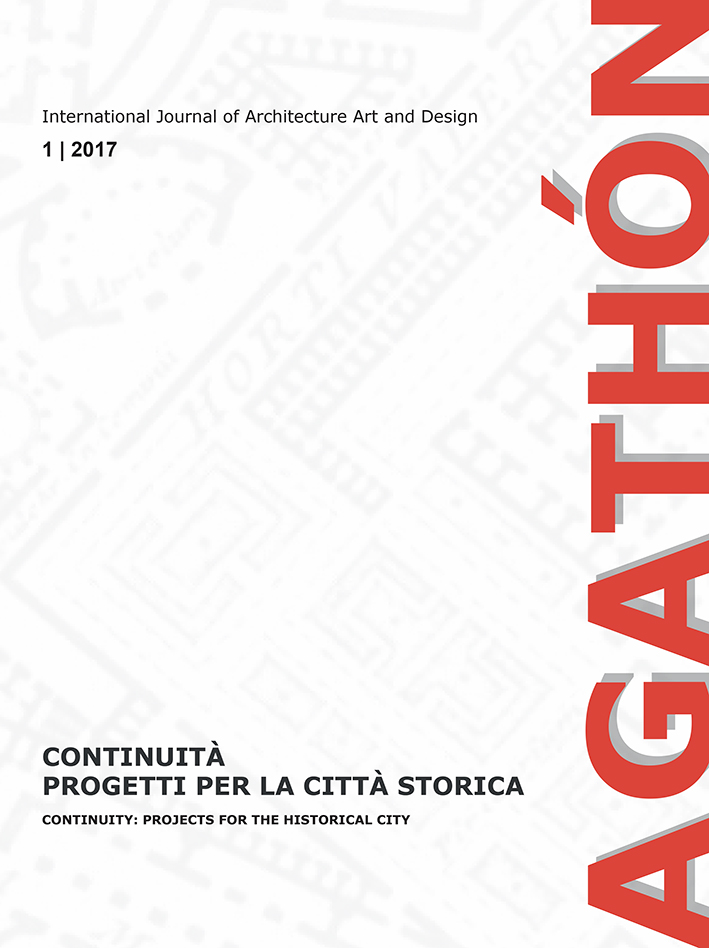 Downloads
How to Cite
Firrone, T. and Bustino, C. (2017) "Mutations and pemanences in ancient Palermo", AGATHÓN | International Journal of Architecture, Art and Design, 1(online), pp. 77–82. doi: 10.19229/2464-9309/1122017.
Section
Architecture | Essays & Viewpoint
License
This Journal is published under Creative Commons Attribution Licence 4.0 (CC-BY).




License scheme | Legal code

This License allows anyone to:
Share: copy and redistribute the material in any medium or format.
Adapt: remix, transform, and build upon the material for any purpose, even commercially.

Under the following terms
Attribution: Users must give appropriate credit, provide a link to the license, and indicate if changes were made; users may do so in any reasonable manner, but not in any way that suggests the licensor endorses them or their use.
No additional restrictions: Users may not apply legal terms or technological measures that legally restrict others from doing anything the license permits.

Notices
Users do not have to comply with the license for elements of the material in the public domain or where your use is permitted by an applicable exception or limitation.
No warranties are given. The license may not give users all of the permissions necessary for their intended use. For example, other rights such as publicity, privacy, or moral rights may limit how you use the material.