Strategies of urban regeneration for historical city: Flussbad Berlin
Irene Marotta

University of Palermo
Keywords:
river renewal, museum island, Flussbad Berlin
Abstract
The article deals with the issues of the urban regeneration of Berlin's historic centre, while focussing on the Flussbad Berlin, a project of sustainable redevelopment of the River Spree around the Museum Island, which today is the focus of major city debate. Berlin is currently reflecting on the identity of its historic centre, whether to scrupulously conserve its nineteenth-century image or to make it a new urban centrality for its citizens. The will to make the historic centre immutable, increasing detachment with the rest of the city and promoting the ongoing 'touristification' process, clashes with the idea of Berlin as a «dialogic city» where diverse sites and activities can express themselves and interact productively.
Downloads
References
Brandlhuber, A. (2015), "Warum wir in Berlin weniger Dialektik und mehr Dialog brauchen", in Flussbad Berlin, Jahresheft Nummer 1. Herbst 2015, pp. 40-41. [Online] Available at: www.flussbad-berlin.de/start [Accessed April 24th 2017].
Brandlhuber, A., Hertweck, F. and Mayfried, T. (eds) (2015), The Dialogic City - Berlin wird Berlin, Buchlandlung Walther König, Köln.
Flussbad Berlin, Jahresheft Nummer 1. Herbst 2015. [Online] Available at: www.flussbad-berlin.de/start [Accessed April 24th 2017].
Holm, A. (2014), "Berlin's Gentrification Mainstream", in Grell, B., Bernt, M. and Holm, A. (eds), The Berlin Reader. A Compendium on Urban Change and Activism, Transcript, Bielefeld, pp. 171-187.
L'Architecture d'Aujourd'hui (2017), From utopia to reality. [Online] Available at: www.larchitecturedaujourdhui.fr/39924/?lang=en [Accessed April 24th 2017].
Lafarge Holcim Foundation (2017), Urban renewal and swimming-pool precinct. [Online] Available at: www.lafargeholcim-foundation.org [Accessed April 24th 2017].
Lecardane, R. (2013), "Il territorio dell'acqua: Saragozza dopo l'Expo 2008", in Agathón, Università degli Studi di Palermo/Dipartimento di Architettura/RCAPIA PhD Journal/Centro Documentazione e Ricerca Euro-Mediterranea DEMETRA Ce.Ri.Med., pp. 41-46.
Realities United (2012), Project description. [Online] Available at: www.realities-united.de [Accessed April 24th 2017].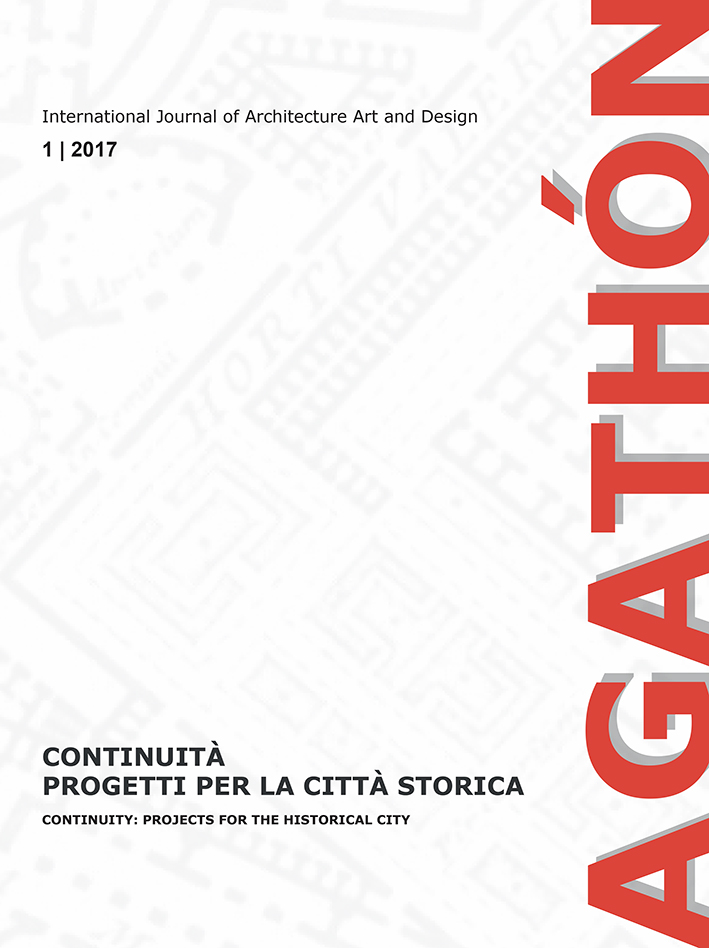 How to Cite
Marotta, I. (2017) "Strategies of urban regeneration for historical city: Flussbad Berlin", AGATHÓN | International Journal of Architecture, Art and Design, 1(online), pp. 41-46. doi: 10.19229/2464-9309/172017.
Section
Architecture | Essays & Viewpoint
This Journal is published under Creative Commons Attribution Licence 4.0 (CC-BY).




License scheme | Legal code

This License allows anyone to:
Share: copy and redistribute the material in any medium or format.
Adapt: remix, transform, and build upon the material for any purpose, even commercially.

Under the following terms
Attribution: Users must give appropriate credit, provide a link to the license, and indicate if changes were made; users may do so in any reasonable manner, but not in any way that suggests the licensor endorses them or their use.
No additional restrictions: Users may not apply legal terms or technological measures that legally restrict others from doing anything the license permits.

Notices
Users do not have to comply with the license for elements of the material in the public domain or where your use is permitted by an applicable exception or limitation.
No warranties are given. The license may not give users all of the permissions necessary for their intended use. For example, other rights such as publicity, privacy, or moral rights may limit how you use the material.