Going back to ruins to rediscover our Gods
Annalucia D'Erchia

Polytechnic of Milano
Keywords:
archaeology, collective memory, open sites
Abstract
A renewed sensibility toward the ancient, in a search for knowledge and a greater awareness of our roots, has over the last 30 years led to an exponential increase in debate about the future of the past. A past which is perceived as a genesis, a layering of present and future pasts, inseparable from one another. Going back to the ruins is a reflection on the regenerative potential a contemporary intervention could have on the ancient: the strategy is one of promotion, musealization and communication. One possible interpretation is opening up sites to the public. This process, as well as being necessary to resolve the urban problem of re-joining and creating continuity between different parts of the city, is also necessary for us to rediscover our gods, our identity.
Downloads
References
Altarelli, L. (2015), "Il linguaggio delle rovine", in La modernità delle rovine, Prospettive, Perugia, pp. 12-27.
Calvino, I. (2015), "La Colonna Traiana raccontata", in Collezione di sabbia, Oscar Mondadori, Cles (TN), pp. 94-101.
Carandini, A. (1981), Storie dalla Terra. Manuale di Scavo Archeologico, Einaudi, Torino.
Espuelas, F. (2013), Il vuoto. Riflessioni sullo spazio in architettura, Christian Marinotti Edizioni, Milano.
Ferrari, M. (2017), "Jannis Kounellis, Hideyoshi Nagasawa, Claudio Parmiggiani, Ettore Spalletti. Adeguamento liturgico della Cattedrale di Reggio Emilia", in Casabella, n. 871, pp. 20-21.
Ranellucci, S. (2012), Conservazione e Musealizzazione nei Siti Archeologici, Gangemi Editore, Roma.
Rogers, E. N. (1999), Il senso della storia, Edizioni Unicopli, Milano.
Santi, G. (2016), Il rinnovamento liturgico delle chiese in Italia dopo il Vaticano II. Linee guida, realizzazioni e progetti, Vita e Pensiero, Peschiera Borromeo.
Semerani, L. (2015), Incontri e Lezioni. Attrazione e contrasto tra le forme, TECA8 - Teorie della Composizione Architettonica, CLEAN Edizioni, Napoli.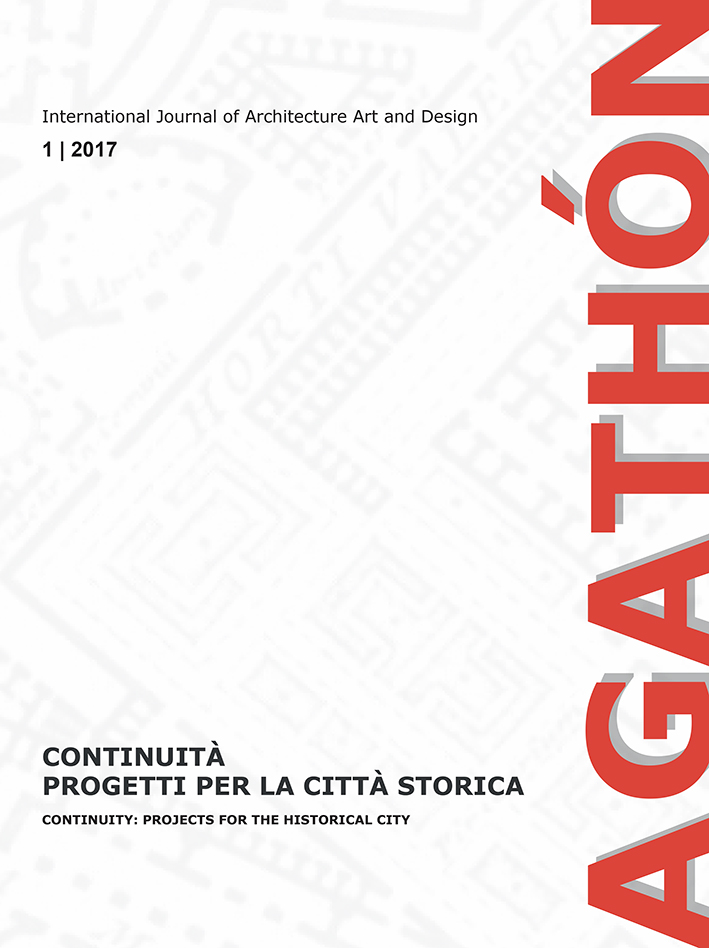 How to Cite
D'Erchia, A. (2017) "Going back to ruins to rediscover our Gods", AGATHÓN | International Journal of Architecture, Art and Design, 1(online), pp. 15-20. doi: 10.19229/2464-9309/132017.
Section
Architecture | Essays & Viewpoint
This Journal is published under Creative Commons Attribution Licence 4.0 (CC-BY).




License scheme | Legal code

This License allows anyone to:
Share: copy and redistribute the material in any medium or format.
Adapt: remix, transform, and build upon the material for any purpose, even commercially.

Under the following terms
Attribution: Users must give appropriate credit, provide a link to the license, and indicate if changes were made; users may do so in any reasonable manner, but not in any way that suggests the licensor endorses them or their use.
No additional restrictions: Users may not apply legal terms or technological measures that legally restrict others from doing anything the license permits.

Notices
Users do not have to comply with the license for elements of the material in the public domain or where your use is permitted by an applicable exception or limitation.
No warranties are given. The license may not give users all of the permissions necessary for their intended use. For example, other rights such as publicity, privacy, or moral rights may limit how you use the material.