Design and microalgae. Sustainable systems for cities
Keywords:
microalgae, urban production, limits and possibilities, product/service/system, sustainability
Abstract
New practices linked to biological sciences are emerging in the world of design and architecture. In recent years various interventions have involved the use of living organisms and biomaterials even in an urban context. This essay analyzes those projects that have entailed the use of microalgae, tracing their limits and possibilities. The guidelines for the implementation of similar projects at the level of products or small installations are also defined. From the perspective of designing for the benefit of citizens and given the countless properties of microalgae, solutions of this kind and innovative integrated services could be a way to mitigate the environmental, but also social and economic problems, of present and future cities.
Downloads
Download data is not yet available.
Article Metrics Graph
References
Abdulqader, G., Barsanti, L. and Tredici, M. R. (2000), "Harvest of Arthrospira platensis from Lake Kossorom (Chad) and its household usage among the Kanembu", in Journal of Applied Phycology, vol. 12, issue 3-5, pp. 493-498.
Ackerman, K., Conard, M., Culligan, P., Plunz, R., Sutto, M.-P. and Whittinghill, L. (2014), "Sustainable food systems for future cities: The potential of urban agriculture", in The Economic and Social Review, vol. 45, issue 2, pp. 189-206.
Antonelli, P. (2019), "Broken nature", in Antonelli, P. and Tannir, A. (eds), Broken nature – XXII Triennale di Milano, Mondadori Electa, Milano, pp. 16-42.
Belasco, W. (1997), "Algae Burgers for a Hungry World? The Rise and Fall of Chlorella Cuisine", in Technology and Culture, vol. 38, issue 3, pp. 608-634.
Braudel, F. (1984), The perspective of the world. Civilization & Capitalism, 15th -18th Century, Harper & Row, New York.
Chung, T. (2016), "Floating Fields. Il riscatto della natura", in ACER, vol. 6, issue 32, pp. 35-40.
Ciferri, O. (1983), "Spirulina, the edible microorganism", in Microbiological Reviews, vol. 47, issue 4, pp. 551-578.
Elrayies, G. M. (2018), "Microalgae: Prospects for greener future buildings", in Renewable and Sustainable Energy Reviews, vol. 81, pp. 1175-1191.
Garrido-Cardenas, J. A., Manzano-Agugliaro, F., Acien-Fernandez, F. G. and Molina-Grima, E. (2018), "Microalgae research worldwide", in Algal Research, vol. 35, pp. 50-60.
Griffa, C. and Vissio, A. (2018), WaterLilly – Story of an architectural photobioreactor. [Online] Available at: drive.google.com/file/d/1VxFkWDO5fkZywy4yXEuUUz-_W1tfs3Vh/view [Accessed 13 June 2019].
Henrikson, R. (2013), Algae microfarms: for home, school, community and urban gardens, rooftop, mobile and vertical farms and living buildings, CreateSpace Independent Publishing Platform.
Jacobs, J. (1961), The death and life of great American cities, Vintage Books, New York.
Khan, M. I., Shin, J. H. and Kim, J. D. (2018), "The promising future of microalgae: current status, challenges, and optimization of a sustainable and renewable industry for biofuels, feed, and other products", in Microbial Cell Factories, vol. 17, article number 36, pp. 1-21.
Luise, C. (2019), "Mirafiori, là dove c'era la fabbrica verrà coltivata l'alga spirulina", in La Stampa, newspaper, March 6, p. 27.
MADRE (2018), Urban and peri-urban agriculture – Best practice catalogue. [Online] Available at: madre.interreg-med.eu/fileadmin/user_upload/ Sites/Green_Growth/Projects/MADRE/MADRE_best_practice_catalogue.pdf [Accessed 17 June 2019].
Marino, V. and Giordano, R. (2015), "Requirements and performances of a façade integrated microalgae photo-bioreactor for domestic wastewater recycling", in Astudillo, J. et alii (eds), Proceedings of the VII International Congress on Architectural Envelopes, Tecnalia Research & Innovation, San Sebastián, pp. 79-86.
Myers, W. (2018), Biodesign – Nature, Science, Creativity, Revised and expanded edition, Thames & Hudson, New York.
Ortolani, G. (2016), "Is spirulina the new kale? A Thai startup is bringing back the tiny green algae", in The Guardian, newspaper online, April 7. [Online] Available at: www.theguardian.com/sustainable-business/2016/apr/07/spirulina-kale-thailand-urban-farming-environment-food [Accessed 23 September 2019].
Peruccio, P. P., Vrenna, M., Menzardi, P. and Savina, A. (2018), "From 'the limits to growth' to systemic design: Envisioning a sustainable future", in Linghao, Z., Yanyan, L., Dongjuan, X., Gong, M. and Di, S. (eds), Cumulus Conference Proceedings 2018 – Diffused Transition and Design Opportunities, Wuxi, China, October 31-November 3, 2018, Huguang Elegant Print Co., pp. 751-759.
Proksch, G. (2013), "Growing Sustainability – Integrating Algae Cultivation into the Built Environment", in Edinburgh Architectural Research Journal, vol. 33, pp. 147-162. [Online] Available at: sites.eca.ed.ac.uk/ear/files/2014/07/147-1621_Updated.pdf [Accessed 22 August 2019].
Rees, W. and Wackernagel, M. (1996), "Urban ecological footprints: Why cities cannot be sustainable, and why they are a key to sustainability", in Environmental Impact Assessment Review, vol. 16, issue 4-6, pp. 223-248.
Sánchez, M., Bernal-Castillo, J., Rozo, C. and Rodríguez, I. (2003), "Spirulina (Arthrospira): An Edible Microorganism – A Review", in Universitas Scientiarum, vol. 8, issue 1, pp. 7-24.
Sawa, M. (2016), "The laboratory life of a designer at the intersection with algal biotechnology", in Architectural Research Quarterly, vol. 20, issue 1, pp. 65-72.
Singh, U. B. and Ahluwalia, A. S. (2013), "Microalgae: a promising tool for carbon sequestration", in Mitigation and Adaptation Strategies for Global Change, vol. 18, issue 1, pp. 73-95.
Tomaselli, L. (2004), "The microalgal cell", in Richmond, A. (ed.), Handbook of Microalgal Culture – Biotechnology and Applied Phycology, Blackwell Science, Oxford, pp. 3-19.
United Nations – Department of Economic and Social Affairs, Population Division (2018), World urbanization prospects – The 2018 revision. [Online] Available at: population.un.org/wup/Publications/Files/WUP2018-KeyFacts.pdf [Accessed 12 September 2019].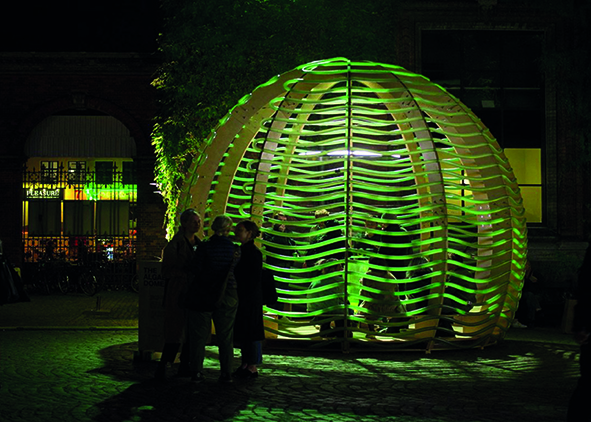 Downloads
How to Cite
Peruccio, P. P. and Vrenna, M. (2019) "Design and microalgae. Sustainable systems for cities", AGATHÓN | International Journal of Architecture, Art and Design, 6(online), pp. 218–227. doi: 10.19229/2464-9309/6212019.
Section
Design | Essays & Viewpoint
License
This Journal is published under Creative Commons Attribution Licence 4.0 (CC-BY).




License scheme | Legal code

This License allows anyone to:
Share: copy and redistribute the material in any medium or format.
Adapt: remix, transform, and build upon the material for any purpose, even commercially.

Under the following terms
Attribution: Users must give appropriate credit, provide a link to the license, and indicate if changes were made; users may do so in any reasonable manner, but not in any way that suggests the licensor endorses them or their use.
No additional restrictions: Users may not apply legal terms or technological measures that legally restrict others from doing anything the license permits.

Notices
Users do not have to comply with the license for elements of the material in the public domain or where your use is permitted by an applicable exception or limitation.
No warranties are given. The license may not give users all of the permissions necessary for their intended use. For example, other rights such as publicity, privacy, or moral rights may limit how you use the material.