Cover the Antique. The case of the Arena of Verona
Keywords:
Arena di Verona, kinetic architecture, large shell, reversible architecture
Abstract
The International Competition for Verona Arena Coverage has animated the international debate on the theme of contemporary intervention on ancient architecture. The NFRG of Politecnico of Bari has proposed an experimental, reversible, modular and structurally independent roofing solution. Starting from the study of the velaria, the group has come to a design research inspired by the Kinetic Architecture.
Downloads
Download data is not yet available.
Article Metrics Graph
References
Buodo, P. (1857), Intorno all'Anfiteatro di Verona: memoria e storico nota critica riguardante sua origine, Frizierio, Verona.
Dalla Rosa, S. (1841), Della origine dell'Anfiteatro di Verona, Tipografia Bisesti, Verona.
Fortmeyer, R. and Linn, C. D. (2014), Kinetic Architecture: Designs for Active Envelopes Images Publishing Dist Ac.
Fox, M. (2016), Interactive Architecture: Adaptive World (Architecture Briefs), Princeton Architectural Press.
Giuliari, B. (1992), Topografia dell'Anfiteatro di Verona, Spazio libri editori, Ferrara.
Graefe, R. (1979), Vela erunt: Die Zeltdächer der römischen Theater und ähnlicher Anlagen, Mainz, Zabern.
Lenotti, T (1954), L'Arena di Verona, Edizioni di Vita Veronese, Verona.
Maffei, S. (1841), Descrizione dell'Anfiteatro di Verona tratta dalla Verona illustrata di Scipione Maffei con l'aggiunta delle cose più osservabili della stessa città, Tipografia di G. Sanvido, Verona.
Marini, M. (2013), Il sistema Arena di Verona, QuiEdit, Verona.
Meijer, F. (2006), Un giorno al Colosseo (il mondo dei gladiatori), Laterza, Bari-Roma.
Moloney, J. (2011), Designing Kinetics for Architectural Facades: State Change, ed. Routledge.
Paolucci, F. (2006), Gladiatori - I dannati dello spettacolo, Giunti, Roma.
Spalviero, F., Arich, D. (2002), L'Arena di Verona: duemila anni di storia e di spettacolo, Accademia di Belle arti G. B. Cignaroli, Verona.
Zuk, W. (1970), Kinetic Architecture, Van Nostrand NY.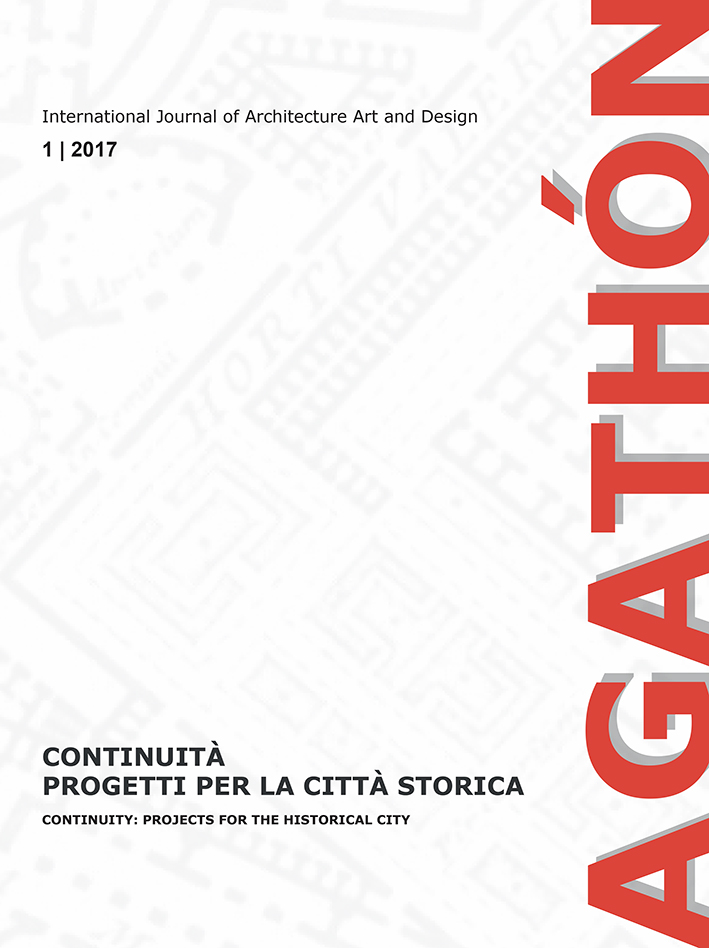 Downloads
How to Cite
Fallacara, G., Occhinegro, U. and Pignatelli, M. (2017) "Cover the Antique. The case of the Arena of Verona", AGATHÓN | International Journal of Architecture, Art and Design, 1(online), pp. 53–60. doi: 10.19229/2464-9309/192017.
Section
Architecture | Essays & Viewpoint
License
This Journal is published under Creative Commons Attribution Licence 4.0 (CC-BY).




License scheme | Legal code

This License allows anyone to:
Share: copy and redistribute the material in any medium or format.
Adapt: remix, transform, and build upon the material for any purpose, even commercially.

Under the following terms
Attribution: Users must give appropriate credit, provide a link to the license, and indicate if changes were made; users may do so in any reasonable manner, but not in any way that suggests the licensor endorses them or their use.
No additional restrictions: Users may not apply legal terms or technological measures that legally restrict others from doing anything the license permits.

Notices
Users do not have to comply with the license for elements of the material in the public domain or where your use is permitted by an applicable exception or limitation.
No warranties are given. The license may not give users all of the permissions necessary for their intended use. For example, other rights such as publicity, privacy, or moral rights may limit how you use the material.