Restart Oliena 2018. Temporary strategies for a permanent regeneration
Keywords:
inner areas, reactivation, participation, set-up, urban interiors
Abstract
Population decline in small towns in Italy and Europe has set off many explorative research efforts towards the development of new strategies for the regeneration of urban spaces. The participatory design workshop here presented faced the requalification of the semi-public courtyards, spaces representing the identity of the village of Oliena (NU), in inner Sardinia, with the aim of promoting local culture and production. The potential of these space to undergo (as rootstocks) a possible modernisation (grafting), based on contemporary living patterns and social interactions, were put at stake through activities aimed at stabilising and transforming temporary into permanent interventions, able to trigger new models of space re-appropriation.
Downloads
Download data is not yet available.
Article Metrics Graph
References
Bauman, I. (2012), "Temporary urbanism: the stepping stones to placemaking", in Urban Design Group Journal, vol. 1, issue 122, pp. 14-15.
Bishop, P. and Williams, L. (2012), Temporary city, Routledge, Oxon.
Camocini, B., Di Prete, B. and Rebaglio, A. (2017), "Temporary and Narrative Design – Approaches for Fragile Urban Contexts", in Proceedings of the Conference Design Beyond the Borders, Funchal, Portugal, pp. 14-20.
Cocco, F., Fenu, N. and Lecis Cocco-Ortu, M. (2016), SPOP – Istantanea dello spopolamento in Sardegna, Lettera Ventidue, Siracusa.
Consiglio d'Europa (2000), Convenzione Europea del Paesaggio. [Online] available at: www.convenzioneeuropeapaesaggio.beniculturali.it [Accessed 10 October 2018].
Daglio, L. and Gambaro, M. (2017), "Towards a new strategic dimension for Technological design", in Techne, vol. 13, pp. 119-125.
Esposto, M. and Cardoni, S. (2013), "I borghi, un nuovo modello di sviluppo e di ospitalità italiana", in Flora, N. and Crucianelli, E. (eds), I borghi dell'uomo – Strategie e progetti di ri-attivazione, Lettera ventidue, Siracusa.
Feireiss, L. (2015), "Pretty Vacant – Embracing impermanence in architecture and urban planning", in Feireiss, K. and Hamm, O. G. (eds), Transforming cities – Urban interventions in public, Jovis, Berlin.
Gehl, J., Kaefer, L. J. and Reigstad, S. (2006), "Close encounters with buildings", in Urban Design International, vol. 11, pp. 29-47.
Lydon, M. and Garcia, A. (2011), Tactical urbanism – Short-term Action for Long-term Change, Publishers Island Press, Washington DC.
Oswalt, P., Beyer, E., Hagemann, A. and Rieniets, T. (2006), Atlas of Shrinking Cities, Hatje Cantz Pub, Ostfildern.
Oswalt, P., Overmeyer, K. and Misselwitz, P. (2013), Urban Catalyst – The Power of Temporary Use, DOM Publishers, Berlin.
Pinto, M. R. (2013), "Sostenibilità e strategie di fruizione per il recupero del Patrimonio culturale nelle aree del Mediterraneo", in Castagneto, F. and Fiore, V. (eds), Recupero, valorizzazione, manutenzione nei centri storici – Un tavolo di confronto interdisciplinare, Lettera ventidue, Siracusa.
Rietveld, R., Rietveld, E., Zoeteman, M. and Mackic, A. (2014), Vacancy studies, Nai010 Publishers, Rotterdam.
Robiglio, M. (2017), "Old is the new – Architecture and the adaptive reuse of industrial legacy", in Robiglio, M. (ed.), Re-usa – 20 American stories of adaptive reuse: a toolkit for post-industrial cities, Jovis, Berlin.
Sanders, E. B. N., Brandt, E. and Binder, T. (2010), "A framework for organizing the tools and techniques of participatory design", in Proceedings of the 11th biennial participatory design conference, pp. 195-198.
Sennet, R. (2012), Together – The Rituals, Pleasures and Politics of Cooperation, Yale University Press.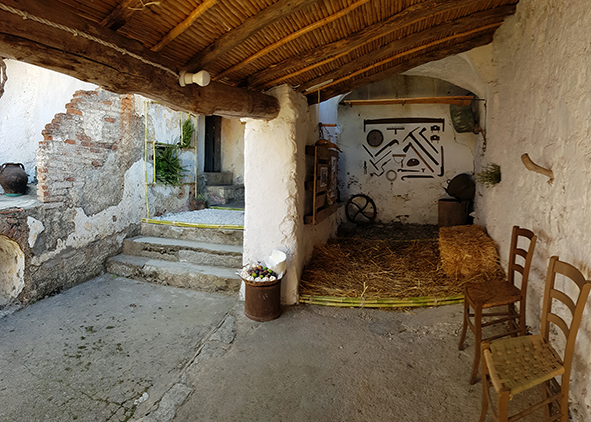 Downloads
How to Cite
Boi, G., Camocini, B., Daglio, L., Mazzarello, M. and Podda, R. (2018) "Restart Oliena 2018. Temporary strategies for a permanent regeneration", AGATHÓN | International Journal of Architecture, Art and Design, 4(online), pp. 227–234. doi: 10.19229/2464-9309/4282018.
Section
Art | Research & Experimentation
License
This Journal is published under Creative Commons Attribution Licence 4.0 (CC-BY).




License scheme | Legal code

This License allows anyone to:
Share: copy and redistribute the material in any medium or format.
Adapt: remix, transform, and build upon the material for any purpose, even commercially.

Under the following terms
Attribution: Users must give appropriate credit, provide a link to the license, and indicate if changes were made; users may do so in any reasonable manner, but not in any way that suggests the licensor endorses them or their use.
No additional restrictions: Users may not apply legal terms or technological measures that legally restrict others from doing anything the license permits.

Notices
Users do not have to comply with the license for elements of the material in the public domain or where your use is permitted by an applicable exception or limitation.
No warranties are given. The license may not give users all of the permissions necessary for their intended use. For example, other rights such as publicity, privacy, or moral rights may limit how you use the material.