Temporary Architecture for sharing
Salvator-John A. Liotta

Université Libre de Bruxelles
Keywords:
applied research, pop-up architecture, experimental structures, reusable materials
Abstract
The projects presented here outline an interdisciplinary research established between various international universities, public and private institutions – Politecnico di Milano, Università di Tokyo, Université Libre de Bruxelles, Triennale di Milano, Farm Cultural Park and Parco Archeologico di Agrigento – and conducted between 2011 and 2018. The paper outlines the premises, the theories, the methodologies, the constructive peculiarities and the results of these years of collaboration.
Downloads
References
Casavecchia, B. (2005), "Architettura temporanea: la bellezza dell'effimero", in Repubblica.it, 2005/09/03. [Online] Available at: ricerca.repubblica.it/repubblica/archivio/repubblica/2005/09/03/architettura-temporanea-la-bellezza-dell-effimero.html [Accessed 10 October 2018].
Imperadori, M., Liotta, S. J. et alii (2015), "New Architectural solutions for Archeological sites", in International Colloquium on Bio-based and Bio-inspired Environmentally Compatible Structures, IASS, Tokyo.
Ko, K. and Liotta, S. J. (2011), "Decoding Culture Parametrically: Tea House Case Studies", in International Journal of Architectural Computing (IJAC), vol. 9, issue 04, pp. 325-338.
Liotta, S. J. (2016), "Using a pattern as a 3D generator for producing a modular and flexible system for architecture", in Challenges For Technology Innovation, Taylor&Francis, pp. 115-119.
Liotta, S. J. and Belfiore, M. (2012), Patterns and Layering – Japanese Spatial Culture, Nature, and Architecture, Die Gestalten Verlag, Berlin.
Masera, G., Imperadori, M., Vanossi, A., Liotta, S. J. and Ito, Y. (2015), "Modular, Adaptable Shelters for Environmentally Sensitive Archaeological Sites", in Falk, A., Imagawa, N. (eds), International Colloquium on Bio-based and Bio-inspired Environmentally Compatible Structures, IASS, Tokyo.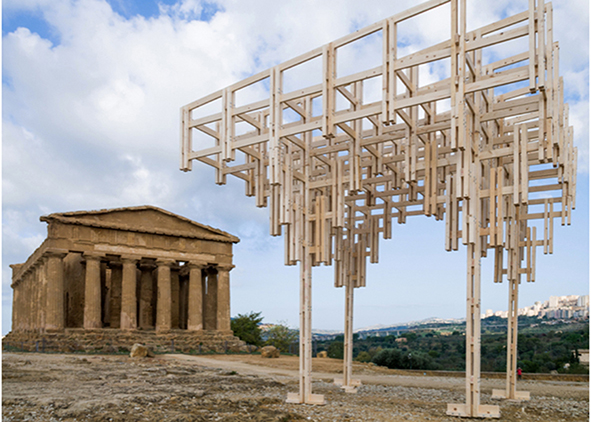 How to Cite
Liotta, S.-J. A. (2018) "Temporary Architecture for sharing", AGATHÓN | International Journal of Architecture, Art and Design, 4(online), pp. 29-36. doi: 10.19229/2464-9309/442018.
This Journal is published under Creative Commons Attribution Licence 4.0 (CC-BY).




License scheme | Legal code

This License allows anyone to:
Share: copy and redistribute the material in any medium or format.
Adapt: remix, transform, and build upon the material for any purpose, even commercially.

Under the following terms
Attribution: Users must give appropriate credit, provide a link to the license, and indicate if changes were made; users may do so in any reasonable manner, but not in any way that suggests the licensor endorses them or their use.
No additional restrictions: Users may not apply legal terms or technological measures that legally restrict others from doing anything the license permits.

Notices
Users do not have to comply with the license for elements of the material in the public domain or where your use is permitted by an applicable exception or limitation.
No warranties are given. The license may not give users all of the permissions necessary for their intended use. For example, other rights such as publicity, privacy, or moral rights may limit how you use the material.